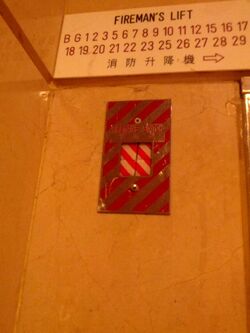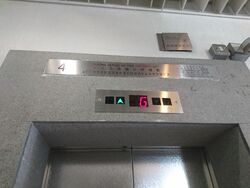 For the main topic about floor numbering, please refer to Floor numbering.

Unlucky floor numbers are usually meant for some cultures that recognizes some numbers meant for bad things, such as death, in Chinese. Elevators in some region usually omit unlucky numbers and replace with another number (except the building owners don't care about this like Public Housing Estate blocks built by Hong Kong Housing Authority).
Examples of unlucky floor numbers that usually omitted in elevators
All numbers ending with four (4)
In Chinese culture, fourth floor is usually omitted from most elevator fixtures in a Chinese building, this is because the number means "death (死)". It was considered that the number 4 in Putunghua means "sì" while death is "sǐ" and Cantonese means "sei3"[1] while death is "sei2"[2]. Both of these words are nearly homophonous. Some buildings in Asia skipped the fourth floor either by numbering it as "5" or by designating the floor as "3A" or something similar. In some buildings in South Korea, fourth floor is labelled "F" (Four) instead of 4 in elevators[3]. The practice of avoiding instances of number 4 is called Tetraphobia.
In the Chinese culture, 14 is considered more unlucky than the individual 4, since 14 sounds like "will certainly die (實死)" in both Putunghua and Cantonese. Some buildings in Asia simply numbering it as "15" or "12B" or even "13A".
Like 4, 24 is considered more unlucky since 24 sounds like "easy to die (易實死/易死)" in Cantonese. This also applies for 34, 44, 54, 64, 74 etc
Floor numbers between forty (40) to forty nine (49)
In Chinese culture, floor numbers between forty (40) to forty nine (49) may also be considered as unlucky floor numbers.
Some countries may not allow to omit 40-43 and 45-49 by the government.[5]
An example of this practice is found in Aryaduta Suites[6], and in The Energy[7], Jakarta, Indonesia.
Nine (9)
Japanese elevators like Mitsubushi do not use the 9th floor because the Japanese number 9 being sounded like Chinese character KU, which means "cry".
Thirteen (13)
Number 13 is regarded as an unlucky number in many cultures. Unreasoned fear of the number 13 is termed triskaidekaphobia. Due to this fear, some tall buildings have resorted to skipping the "thirteenth floor", either by numbering it "14" (though it's really still the thirteenth floor) or by designating the floor as "12A", or 12B and 14A or something similar.
Seventeen (17)
Sometimes omitted in Latin Culture, mainly Spanish colonized ones. 17 is marked as the number of disgrace in these cultures, being even unluckier than 13. Some buildings mark them as 18, 77, 16A, or 18A.
Forty nine (49)
Same reasons as 4. 49 is considered to be an especially unlucky number in Japan as it is evocative of the phrase "shinu made kurushimu", which means "to suffer until death".
Notes and references