Mascot
Thats a nice mascot Elevator wiki! I especially like the combo of Spitfires mane and Rarity's tail!
Vinyl Scratch, Vampony, at your service! Be afraid, be VERY afraid. (talk) 10:12, October 23, 2013 (UTC)
Thanks, glad you like it!
- DJ PON3 -

IDLift3000 [Contact the DJ!]
SQUEE -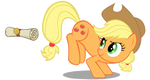 -- [Cynder-loves-lifts] [Message to Cynder-loves-lifts]
Community content is available under
CC-BY-SA
unless otherwise noted.