PT. Louserindo Megah Permai, or better known by its trademark brand Louser Lift, is an elevator company based in Jakarta, Indonesia. It specializes in production of passenger elevators, bed/hospital elevators, freight elevators, panoramic elevators, home elevators and dumbwaiters.
History
Louser was founded on May 18, 1987 by three former elevator engineers from Citas Engineering, the sole distributor of Otis elevators in Indonesia at that time[1]. Initially they only focused on making freight elevators. In 1988, it joined Asosiasi Produsen dan Pemborong Lift dan Eskalator (APPLE) Indonesia (English: Lift and Escalator Manufacturer and Contractor Association). In 1991, Louser became the only sole distributor of Haisung elevator machines from South Korea in Indonesia, and at the same time the company started marketing passenger elevators.
Locations
Louser is currently based in Jakarta. It has branches located in Bandung, Yogyakarta, and Surabaya. It also has sole agents in Semarang (PT. Sinar Mentari Pagi Cerah) and Palembang (PT. Bumi Sriwijaya Lestari). A factory is located in Cipondoh, Tangerang, Banten.
Notable installations
New installs
Jakarta
This list also includes location in outskirt areas.
Oil Center (replacement from 1970 Otis elevators)
Wisma Nusantara Annex (2005)
Rusunami Kemayoran
Panti Trisula Perwari (2012)
Jatinegara X-Tainment (2012)
KPP Pratama Jakarta Duren Sawit, Matraman
Arnava Hotel, Senen
Pancasila University
Harapan Kita Hospital (most are modernizations of 1980s Fujitec elevators)

National Heart Center (Pusat Jantung Nasional)
Paviliun Sukaman
Wisma FITS

Taman Kemayoran Condominium, Jakarta (replacement from 1990s Hyundai elevators)
Permata Cibubur Hospital, Cibubur
Tumbuh Kembang Hospital, Cibubur
Banten
Grand Zuri BSD City Hotel, Tangerang, Banten (2011)
Maison, Serpong, Tangerang
Siti Hotel by Horison, Tangerang
Syarif Hidayatullah State Islamic University - Central Library, Tangerang, Banten
Sari Asih Hospital, Serang
Bandung
Grand Royal Panghegar Hotel (1995)
Savoy-Homann Hotel (2003, another one is a modernization of older Indolift elevator)
Takashimaya Hotel, Lembang
Fox Harris Hotel City Center
Other cities
University of Indonesia, Depok

Faculty of Engineering

Main Building
Metallurgy Laboratory (2014)
Metallurgy Research Center (MRC)
Architect Building

Faculty of Public Health
Health Clump Knowledges Building (2012)

Zuri Express Hotel Lippo Cikarang, Bekasi
Grand Zuri Hotel Jababeka, Cikarang, Bekasi
Universitas PGRI (Persatuan Guru Republik Indonesia), Semarang
Roemani Muhammadiyah Hospital, Semarang
Dr. Kariadi General Hospital,  Semarang

Paviliun Garuda
Paviliun Rajawali (replacement from 1990s Hyundai elevator)

Hotel Sindoro, Cilacap (2019, new building)
Grand Zuri Malioboro Hotel, Yogyakarta (2012)
Abadi Hotel Jogja, Yogyakarta
Kediri Mall, Kediri
Grand Zuri Hotel, Lahat
The ALTS Hotel, Palembang
The Zuri Hotel, Palembang
Grand Inna Daira, Palembang
Zuri Express Hotel, Palembang
Azza Hotel Palembang, Palembang
Abadi Hotel Jambi, Jambi
The Zuri Hotel, Pekanbaru
Zuri Express Hotel, Pekanbaru
Grand Zuri Hotel, Pekanbaru
The Zuri Hotel, Dumai
Grand Zuri Hotel, Dumai
Grand Zuri Hotel, Padang
Acara Hotel Gajahmada, Pontianak
Grand Q Hotel Banjarbaru, Banjarbaru
Modernization
Sarinah Department Store, Jakarta (modernization of four 1990s Otis elevators and two GoldStar service elevators)
Pullman Jakarta Thamrin (Old Wing), Jakarta (modernization of 1971 Otis elevators)
Pertamina Central Hospital, Jakarta (modernization of 1990s LG elevators)
Persahabatan Hospital, Jakarta (modernization of unknown elevators)
Manggala Wanabakti (Block 4), Jakarta (modernization of Otis Elevonic 411 M elevators)
The Sultan Hotel - Lagoon Tower (modernization of 1992 Otis Elevonic 411 elevators)
Televisi Republik Indonesia (TVRI), Senayan, Jakarta (modernization of 1970s Otis elevators)
Old City Jakarta Pedestarian Tunnel (modernization of derelict Hyundai elevators)
Plaza Kalibata, Jakarta (modernization of Dong Yang elevators)
Grand Duta Merlin, Jakarta[2]
UHAMKA University (Gandaria Campus), Jakarta (modernization of 2000s Dong Yang elevator)
Harapan Kita Hospital, Jakarta (modernization of 1980s Fujitec elevators)

Pusat Jantung Nasional (National Heart Center)
Paviliun Sukaman

Hotel Savoy-Homann, Bandung (modernization of 1980s Indolift elevator)
Elevator fixtures
Louser has been known to use elevator fixtures from Jinlix, Hong Jiang and Samil Eltec (LCD floor indicators only). At one time they also used Shanghai STEP and Hunter fixtures but these are rarely found.
Trivia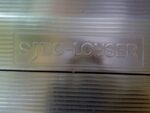 At one time Louser was a distributor of SJEC escalators and moving walks, and these products were installed under the "SJEC-LOUSER" name[3]. Louser did not distribute SJEC elevators, as those products are already handled by another distributor PT. Prawita Karya. It is unknown if Louser still distributes SJEC escalators and moving walkways.
Louser is known to use Samil Eltec elevator control systems, LCD floor indicators and possibly other components for their newer installations and modernization. In addition, Louser is a distributor of Samil Eltec products.
Gallery
Logos and nameplates
Notes and references
↑ "Industri Lift: Tak Puas Cuma Jual Jasa" - Warta Ekonomi, No. 51, May 18, 1992 (PDF available in Indonesian)
↑ Modernization of one 2000s Dong Yang service elevator. Two Dong Yang passenger elevators were rebranded as Louser Lift before they were replaced in 2015; one by Pillar and the other one by Kone.
External link
Community content is available under
CC-BY-SA
unless otherwise noted.