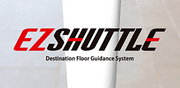 Destination Reservation Guidance System (also known as Destination Floor Guide System or DRGS, EZShuttle, and Viridian Destination in North America(?)) is a destination dispatch elevator system product of Fujitec.
Overview
In this system, the passenger uses the Destination Floor Registration Panel installed near (or within) the elevator hall to register the destination floor. The DRGS system improves service by assigning the optimal elevator for each of the registered destination floors and assigning passengers to multiple elevator cars. Thus the system can reduce the number of stops, thereby reducing the journey time even during busy periods such as the up-peak period.
The system ease congestion in the elevator lobby during up-peak period and improving transportation efficiency by assigning an elevator car to each of the registered destination floors, and since each of the registered destination floors are assigned to multiple cars the number of stops before reaching the destination floor decreases, thereby reduces the journey time.
Notable installations
United States
New York Times Building, New York City, NY
510 Madison, New York City, NY
Park Place, Seattle, WA
Bank of America Plaza, Dallas, TX (modernization of 1985 Otis Elevonic 401 double deck elevators)
Other countries
Marina One, Marina Bay, Singapore
One Raffles Place, Singapore (modernized from 1986 Fujitec elevators)
Trivia
For the specification other than United States, the system doesn't provide "handicap mode". Instead, this provides the conventional elevator dispatching system by providing conventional call buttons and floor buttons for the specific accessible elevators.
Gallery
Videos
Notes and references
External links