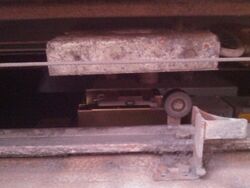 Door interlocks is an elevator device that prevents the door from being opened unless the car is present and completes an electrical circuit. They also ensure that the inner and outer doors are closed before the elevator is allowed to move. Door interlocks are comes in mechanical and electrical, but most elevators nowadays are using mixed door interlocks (both mechanical and electrical) would more safer than only using electrical door interlocks.[1]
By law, door interlocks must have at least two levels of redundancy (there is normally more than one set of electrical contacts in the interlock), so that a single electrical short circuit cannot result in the interlock being defeated and the hoist machine being allowed to start with the doors open.  
For mechanical interlocks, many building codes specify a minimum force which the interlock must withstand forced attack on a shaftway door without the proper unlocking key. This however can be a disadvantage, as it can inhibit access to a stalled car by emergency workers.
Elevator doors will not be allowed to open unless a car was within 18 inches of a floor landing. This is to prevent people falling down the shaft by falling under the elevator car and getting killed. In additions, internal mixed door interlock will need to self-unlock when the doors open.
Notable elevator door interlocks
Gallery
Door interlocks by manufacturers
GAL
LG Elevators
Otis
Other manufacturers
General
Notes and references
See also
External links
"This elevator only serves two floors."
This article is a stub. You can help Elevatorpedia by expanding it.